PRIVATE, EXCLUSIVE & IN GOOD COMPANY
TAKE THIS WALTZ offers exclusive planning services for tailor-made cultural experiences. Focusing on Vienna's cultural wealth, we grant unparalleled behind the scenes access to the city's best museums, galleries, artist and design studios, classical music, restaurants, and much more. Known for its imperial splendor and unsurpassed quality of living, the Austrian capital is now more than ever a vibrant contemporary city and intriguing hotbed of creativity.
Whether you are planning a sophisticated city trip with your loved one, traveling as a group of cultural-minded friends or organizing exclusive incentives for your company and business partners, TAKE THIS WALTZ custom designs your perfect itinerary off the beaten track. By opening doors that are usually sealed off, we introduce you to the local sounds of Vienna and create memories that will last a lifetime.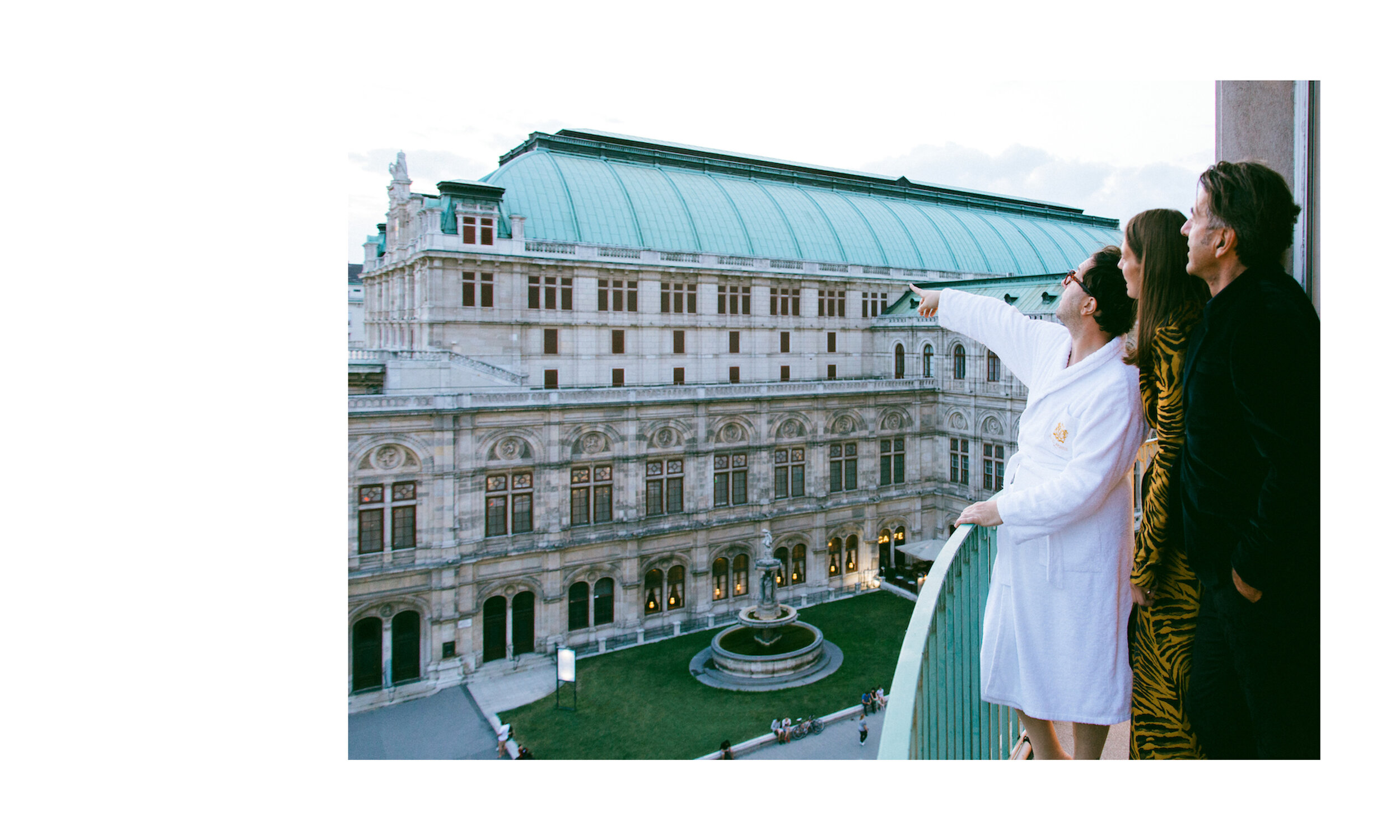 ABOUT US

Insider knowledge and close relationships with the city's cultural scene, paired with great passion for art make us the perfect cultural ambassadors of mesmerizing Vienna. Our unmatched expertise and international experience managing prestigious art world operations and accounts allow us to create the highest level of curated experiences. Top quality in content and execution is a must and also we are all about showing you a really good time.
As destination management company with a keen eye for experiential tourism and personalized service we are proud to share Vienna's rich culture in the most sophisticated and bespoke way possible.
Curious? Come waltz with us!
Mia Laska, Nini Zimmer, Katharina Abpurg
THE TEAM


KATHARINA ABPURG
PARTNER | VIP & PRODUCTION
Katharina's strength lies in exclusive VIP service, hospitality and guest management. As the Head of VIP relations at viennacontemporary, the city's international art fair, for many years she knows how to pass on her own love of Vienna's cultural richness to sophisticated international travelers. Having worked for Sotheby's and international galleries like König and Krinzinger, Katharina has a strong network and enjoys access to the most exclusive venues in town.
mia laska
PARTNER | MARKETING & communication
A curious and restless traveler, Mia knows the international art world from all angles. Having managed the contemporary art collection of Francesca Habsburg and the studio of Eva Schlegel in Vienna she also collaborated with prestigious artists, collectors, galleries and institutions in Buenos Aires, São Paulo, New York and Los Angeles, where she now lives. Galeria Vermelho, 356 Mission, Ibid Gallery and the Swiss Institute are among her references. With an academic background in art history and communications, she is also an alumna of the De Appel Art Institute in Amsterdam. A well-versed project manager and a great communicator, Mia is in charge of marketing and communications.


nini zimmer
PARTNER | PROGRAM & STRATEGY
Art historian and curator, Nini combines conceptual project planning with crafting and implementing creative concepts. Having worked for international galleries and institutions such as Meyer Kainer, Generali Foundation and the KHM in Vienna and Vilma Gold in London, she is an art professional and expert through and through. In her previous position as head of AON Fine Art Insurance in Vienna, she was in charge of the acquisition and the administration of international customer accounts owned by leading museums and art-collectors. In addition to her expertise, her positivity and passion for her job and the art market are remarkable and contagious.

SERVICES

Emphasizing authenticity, quality and luxury, we provide the best cultural experiences possible.
Whether you've always wanted to experience art in its native context and speak with artists about their practice in the private atmosphere of their studio - enjoy an opulent dinner at one of Vienna's best museums after its director exclusively leads you behind the scenes - to philosophize about contemporary art and design with some of the city's most intriguing cultural leaders - learn how to dance the waltz and make the perfect Wiener Schnitzel - if that's what you've always dreamed of look no further, as we can make your dreams come true!
Each itinerary is truly unique and attuned to each guest's personal interests and desires: Contemporary Art - Modern Design - The House of Habsburg > you name it and we curate a fully packaged and luxurious trip with the greatest attention to detail including travel arrangements, accommodation, transportation and culinary experiences.
Interested in a single event? We create the perfect celebration for your special occasion!
Get inspired and contact us!
WALTZ WITH us!

Below please find a selection of itineraries and experiences that you can now book with us. Each package has been carefully designed to show you the best and most authentic cultural experience possible.

If you are interested in further personalization or receiving your very own bespoke itinerary, please be in touch!
Due to the bespoke nature of all experiences we kindly ask you to contact us in a timely manner.
Contact
Interested in indulging in arts and culture, joining a trip or hosting an event?
Curious to learn more about what we have to offer?


We look forward to hearing from you!